Centum Charitas Foundation presents, XII BFA East Asia Baseball Cup 2018
Daily Report - Day 2
Game 1: Philippines 10-6 Thailand
The defending champion Philippines made their first appearance in this year's tournament. Thailand had a strong start, with John Daniel Daru hit his second home-run in two matches. Trailing by 0-5, the Philippines got their first run in the 5th inning and made a dramatic comeback during the 7th inning. They made a total of nine run to get the lead. Philippines won 10-6.
Philippines Head Coach Edgar De Los Reyes said the willingness and the resilience of the team is the key to win the game. "We are down to five in the sixth inning, we keep telling our players never give up." Edgar also said the team did in a right way to counter the opponents pitching rotation. "We are expecting those pitchers to show up today, I just keep telling the players to be patient, and we will get those hits."
Game 2: Hong Kong 12-2 Indonesia
Hong Kong made several changes in this game, Leung Chung Hei replaced Leung Yu Chung as the starting pitcher, and Wu Tsz Tung as left-fielder. The host had a decent start, making four runs in three innings. Indonesia hit two runs in 4th and 6th inning, reducing the deficit down to three. However, Hong Kong dominated in the 7th inning, hitting a total of four runs. Hong Kong secured the victory and the final score is 12-2. They won two straight in a row.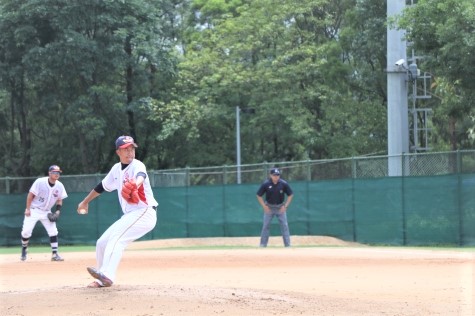 Hong Kong outfielder Wu Tsz Tung had three hits in this game, continuing his good performance on the attacking end recently. Wu said Tom Valcke, head coach of Hong Kong, arranged him from infielder to outfielder due to strategic reason. "I have little experience in playing as an outfielder and need to get used to this new role in two weeks. I was a bit nervous, so I kept telling myself just to do the simplest thing on the field. After consulting teammates and coaches, I didn't think too much during the game and played my own style, and got a nice victory at the end."
Hong Kong (2-0) will face Thailand (1-1) tomorrow.
Other information:
XII BFA East Asia Baseball Cup 2018 Daily Report 2 (to be released)